Asset Allocation in the Golden Years
As you near retirement, it is important to estimate your future income needs and identify potential sources of retirement income. For most people, Social Security and pension income are not enough. Accordingly, you may need to shift the composition of your investment portfolio to accommodate your changing needs. Exactly how -- and when -- you choose to allocate your portfolio among different asset classes and investments will depend upon a number of factors, including your age, tolerance for risk, and the degree to which you rely on personal investments to fund your retirement. In general, however, the older you are, the more conservative your asset allocation becomes.
Why Asset Allocation Matters
Asset allocation refers to the way in which you divide your portfolio among stock, bond, cash, and other investments. It is the single most important determinant of long-term returns for a given portfolio. Within each of these broad categories, there are many types and styles of investments, each with varying risk and growth characteristics. The asset classes you choose, and how you weight your investment in each, will largely determine your overall portfolio risk and long-term returns.
Following are three examples of retirement portfolio allocations that may shed some light on your own investment priorities. Keep in mind that these examples are hypothetical, and your own circumstances will vary.1
Nearing Retirement1
Those who are close to entering retirement typically can afford to take on greater risk than those who are already retired, older, and less concerned with growth. A more aggressive allocation may be more appealing for investors with a higher tolerance for risk and for those who retire early and anticipate many years in retirement. For someone planning on retiring in 2020, the allocation of such a retirement portfolio might be 47% stocks, 36% bonds, 3% cash, and 14% inflation-hedging securities such as U.S. Treasury Inflation-Protected Securities (TIPS).
Nearing Retirement Portfolio

Mid-Retirement1
Those in mid-retirement might be less concerned with growth and more focused on current income. Yet they will also want to stay ahead of inflation. This portfolio might work for a broad range of retirees of varied age and risk comfort levels. A mid-retirement portfolio for someone who retired in 2010 might consist of 38% stocks, 37% bonds, 4% cash, and 21% inflation-hedging securities.
Mid-Retirement Portfolio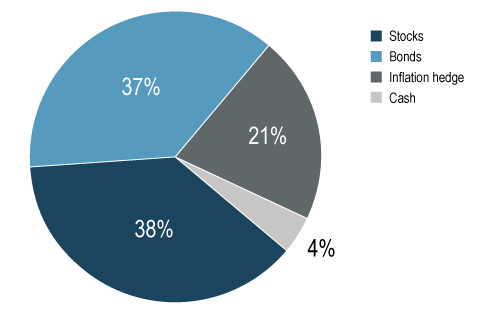 Late-Stage Retirement1
A late-stage retirement portfolio might be appropriate for older investors well into retirement or for those who have not accumulated significant savings for retirement and rely heavily on Social Security. Such a portfolio typically will have even lower risk than a newly retired or mid-retirement portfolio. The allocation of a retirement portfolio for someone who retired in 2000 might be 34% stocks, 34% bonds, 5% cash, and 27% inflation hedging securities.
Late-Stage Retirement Portfolio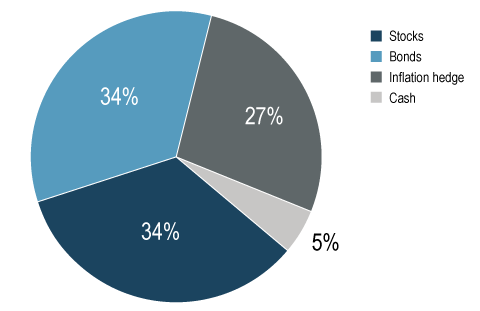 Choosing Specific Investments
Once you've determined an appropriate asset allocation, you'll need to select specific investments for each asset class. Be sure to avoid concentrating your assets in a particular company, sector, or investment type. Mutual funds can help you reduce this risk by diversifying among many different securities, although like other investments, they are subject to risk of loss. A financial professional can help you choose the investments that work best for you.
1These hypothetical asset allocations show the broad asset-class weights represented in the Morningstar family of Lifetime Allocation indexes. They are presented as illustrations only to help evaluate potential investment strategies and should not be construed as recommendations for any investment approach. Plan participants, IRA owners, and beneficiaries should consider their non-plan assets, other investments, and income needs when considering any asset allocation or applying any particular model to their situation. Individual circumstances vary. There may be other solutions that meet your needs.
The Morningstar indexes use varying blends of 18 different asset classes and investment styles to create unique portfolios, each with its own level of risk and commensurate potential for return. For more detailed information on the performance and composition of the Morningstar Lifetime Allocation indexes, as well as the methodologies used for the indexes' construction and maintenance, please go to http://indexes.morningstar.com.
Asset allocation cannot ensure a profit or protect against a loss. It is not possible to invest directly in any index. Index performance does not reflect the effects of investing costs and taxes. Actual results would vary from benchmarks and would likely have been lower. Past performance is not a guarantee of future results. This information is provided for educational purposes only and should not be construed as investment advice.
Morningstar Lifetime Allocation indexes are © 2018 Morningstar. All rights reserved.
The information contained herein: (1) is proprietary to Morningstar and/or its content providers; (2) may not be copied or distributed; and (3) is not warranted to be accurate, complete or timely. Neither Morningstar nor its content providers are responsible for any damages or losses arising from any use of this information.
© 2020 SS&C. Reproduction in whole or in part prohibited, except by permission. All rights reserved. Not responsible for any errors or omissions.